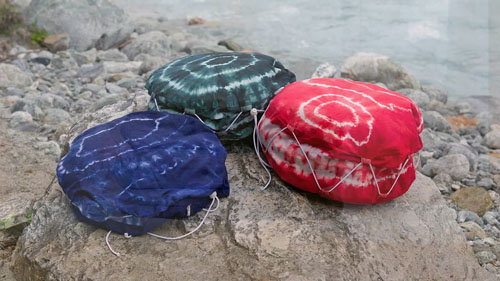 This relaxation pillow with spelt husk filling is light and permeable to air; it stays cold and provides ideal conditions for a healthy, undisturbed sleep. Its special features are highly appreciated also by people practicing yoga, who may use relaxation pillows for sitting while practicing pranayama or meditation.
The size of the pillow is ideal for usage on couches, in cars or for sleeping. The pillow keeps its form that is self adjusted according to your body needs and thus it aids the optimal position of the spine from the orthopaedic point of view, and also a comfortable sleeping or sitting position. The pillow was designed for people, who care for their health and want to live in harmony with nature. You will appreciate its elastic features. It provides a very comfortable rest for your hurting legs or spine, because of its adopting the form needed by your body. It has the ability to absorb sweat and to conduct surplus heat away from your body. Spelt husk has a positive effect on health because of its content of silica, which is being released gradually during the pillow´s lifetime.
It has beneficial effects on health especially if you suffer from:
- Sleep disorder,
- Migraine,
- Stress,
- Joint pain,
- Pain in your neck, shoulders, sacral bone and back,
You can use it also when you use dry heat as therapy.
Spelt (Triticum spelta)
Already Saint Hildegard of Bingen who lived in the 12th century and was a famous healeer, knew about the positive effects of spelt husk on health.
Spelt is distantly related to the "modern" wheat (Triticum aestivum). Sometimes it is being referred to asthe wheat of the old European culture and has been popular in Europe for centuries. Recently, it is grown in Western Europe, Austria, Hungary, Germany, Belgium, Switzerland, and Northern Spain.
Spelt is similar to the common, commercially grown cultivars of wheat, but significantly differs from them in properties. All cereals of the genus Triticum are derived from grasses, but some of them, like spelt, are closer to the ancient cereals of the Occident and represents the original cereal power.
Keep the pillow dry and do not expose it to undue heat.
Filling: organic spelt husk, grown in Hungary, where genetically modified crops are prohibited.
Covering: textile made of natural fibre (flax, cotton)
Ordering address:
Ing. Zuzana Semsey
Czambelova 16, 040 01 Košice
www.semsey.eu
00421 908 844 372